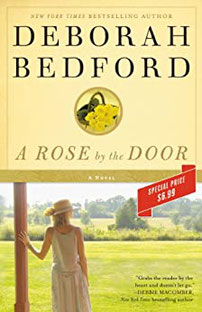 Prior to reading this title, I read four books of Joyce Schneider's Embryo Series back to back; it was a medical thriller which glued me to its pages. It may seem odd to go from such a thrilling roller coaster ride to a Christian fiction title by Deborah Bedford called, A Rose by the Door, but that's exactly what I did. Guess what? A Rose took me on a roller coaster ride, too, but this one was all emotional.
How many tears did I shed getting to know Bea, Gemma and Paisley? How many times did my heart bleed as one hurt the other as a defense mechanism, not wanting to get hurt themselves? How many times did I smile as I could see God healing the characters in His own special way?
This stand-alone Christian title is more than a story; it's a journey. We can't help but imagine how we would feel in a given set of circumstances. Even when we want to be upset with a character's words or actions, we understand what is going on behind the scenes. 
All in all, this was an exceptional story with solid, rich, strong characters you won't forget any time soon. If you decide to delve into A Rose By The Door, be sure to have a few tissues near. You can read my full review of the title by clicking here.