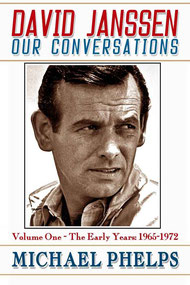 Though I've read both parts of this story - The Early Years & The Final Years - I've only gotten around to reviewing the first part. In this story, published between two volumes, author Michael Phelps shares how he met David Janssen and shares details of numerous conversations they had throughout the life of their friendship, which spanned 15 years up to the time of Janssen's untimely death.
I wasn't even a fan of Janssen - had never heard his name until 2013 - yet, strangely, after reading the book, I wish I, like Phelps, had had the opportunity of getting to know the man behind the scenes, the man David Janssen was when the cameras were nowhere in sight.
If you were a fan of David Janssen, you will likely enjoy seeing this glimpse of the star as told by one of his truest friends, Miami author, Michael Phelps. Go ahead! Take a few moments to check out my review of David Janssen: Our Conversations (The Early Years).