Novelist Sally Fernandez wrote her way into my life and thoughts when she penned a story she later published titled, Climatized, which I would discover and decide to read.
Neither of us imagined the impact the title would have on the other. After all, Fernandez was merely writing a story (even if interjecting fact with fiction) and I was only selecting a book to read to pass the time.
Never in my wildest dreams did I anticipate reading such a book - one I can't forget about, yet would like to because of the disturbing truths it contains. In fact, each time I hear the phrase, global warming, it brings Climatized  to the forefront of my mind. Though Fernandez didn't know I existed at the time, I'm sure my reaction to the book is one she hoped to achieve.
I will say one more thing before allowing you to get to know this wonderful author: she fascinates me ... truly ... in many ways.  I can only hope that, one day, I have the absolute pleasure of meeting her. Read what she has to say and, by the time you've finished reading, you might want to meet her, too. 
Simon Hall Political Thriller: Books 1 & 3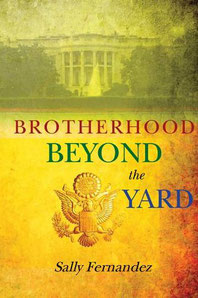 In 1990, an extraordinarily talented young man was discovered on the streets of Florence, Italy. Several years later, a group of scholars at Harvard known as La Fratellanza devise a brilliant thesis in the form of an intellectual game.
When the game morphs into a real-life experience with the election of President Abner Baari, no one could have foreseen the consequences—nor ramifications.
Director Hamilton Scott of the States Intelligence Agency is dispatched to Florence to coordinate a sting operation with Interpol to trap a terrorist, but as he digs deeper, he finds himself in a complicated mystery that has the fate of the United States, even that of the President himself, on his shoulders.
As Hamilton drives the investigation forward with clear-headed integrity, Brotherhood Beyond the Yard provides an array of disturbing possibilities while delivering a rush of thrills.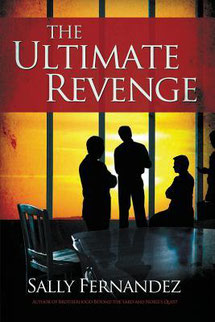 The ever-elusive Simon's daring escape from a high security prison allows him to add unheard of dimensions to the classic cat and mouse game he has played with Noble, the newly appointed director for the SIA.
The manhunt for Simon engages two geniuses and a collection of talented operatives, all immersed in a chase with more twists and turns than a rodeo bull.
In the process, chicanery and double-dealing at the highest levels unfolds, continuing some of the manipulations of the earlier books. Max, Noble's trusted partner, comes into her own, as she uncovers starling evidence and suggestive connections that reveal the nation's power grids are at risk.
Of greater significance, are the hidden agendas of some of the world's most powerful recognized leaders to pursue their goals toward a supra-national one-world government under the guise of global warming,
Simon, the deposed President Baari, and the Jihadists find themselves sharing the same boat, each driven by separate motives but all resulting in a potentially disastrous national emergency of huge proportions. The future of the United States is precipitously at stake. The capture of Simon becomes the highest priority as he continues to elude his captors with his usual bag of tricks.                                                                                                                               
Note from the author: "The Simon Tetralogy" began with Brotherhood Beyond the Yard which was meant to be the first in a trilogy, followed by Noble's Quest and The Ultimate Revenge, but evolved into a fourth, Redemption. The name of the trilogy was changed to the "Simon Hall Political Thriller" series.
In Redemption, the exhaustive pursuit of our international terrorist, Simon Hall, comes to an end, along with some surprising conclusions. But throughout the series, Simon never ceases as he continues to unleash diabolical plots in the U.S. and abroad.
The readers and the character are led first to admire him and then slowly grow to fear him as the various plot lines proceed down the most interesting paths.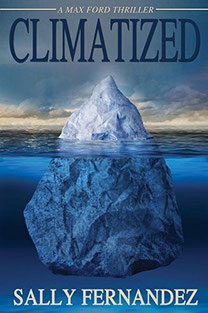 After resigning her post at the States Intelligence Agency, Maxine Ford declares her independence as she bursts onto the Washington scene as a private investigator.
Right out of the starting gate, she finds herself in the cauldron of mystery, murder and mayhem. All her clients are warned to prepare themselves for the truth—at all costs.
In Climatized, Max is hired by the wife of a prominent senator to determine the cause of his untimely death. It leads her to discover that three world-renowned scientists had also lost their lives days before they were scheduled to testify before the late senator's investigative committee on climate change.
Meanwhile, a fourth scientist has gone missing. Max has determined he is the key to unearthing the motives behind the deaths and sets out on a remote chance to find him. After many twists and turns, she uncovers him in the hills of Tuscany, leading her also to discover that a powerful organization was responsible for the killings.
Cogent evidence is provided to the president, forcing him to make a crucial decision—to cover up a diabolical plot—or bring down a multi-trillion-dollar world-wide industry.
Sally Fernandez Shares: Life's Twists and Turns
Little did I realize that seven years and five novels later, my life would begin to resemble the twists and turns reminiscent of my suspenseful political storylines.
It began a few years earlier in 2008, during the U.S. presidential election. In fact, it was when Joe, my husband (and now my editor) presented a challenge. He lovingly listened to my rants over the myriad of pap that rained down from the media, but there was one event that troubled me most. Joe suggested I pen my frustration on paper.
So here comes the first turn in an otherwise serene life—I discovered I loved creative writing, weaving fact with fiction to create a plausible scenario. (Note, my rant is now termed a scenario.) I also enjoyed delving into the research that was required to add to the realism. Frankly, after a career in project management and technology in the financial industry, this was an unexpected development. But a new career was born—and my husband found himself trading in retirement to join me on the journey.
After completing my first novel, Brotherhood Beyond the Yard, I decided to self-publish. The next twist of fate was a shocker: four months after self-publishing, I was approached by David Dunham of Dunham Books. He asked to read the manuscript and within the space of a few weeks, I signed a contract to republish Brotherhood under his label.
Any fellow author out there knows this is akin to winning the lottery against equal odds. Over the years, the publishing relationship remains strong, but even that takes an interesting twist—but you'll have to read on to find out how.
After Brotherhood, the stories continued to flow and, in the span of five years, I published, Noble's Quest, The Ultimate Revenge, and Redemption, completing "The Simon Tetralogy," now known as the "Simon Hall Political Thriller" series. Each book serves up its own storyline, culminating in a major plot brewing in the background.
The crescendo is unleashed in the final chapter of Redemption. Considering the genesis of my writing career, one can rightly assume these novels pursue the contemporary political issues of the past administration, but the topics are weaved into the most deadly and diabolical plots.
Here's where my own plot thickens: I began a new series coined, "The Max Ford Thrillers," where my protagonist, Maxine Ford, finds herself in a host of deathly challenges as a private investigator.
In the first novel, Climatized, Max uncovers cogent evidence that is provided to the President, forcing him to make a crucial decision—to cover up a diabolical plot—or bring down a multi-trillion-dollar world-wide industry. But it doesn't stop there.
Back to my own turn of events: unlike my other novels, I altered my style in Climatized and paired my fictional scientists with real-life experts:
- Dennis Avery is the bestselling NYT co-author of Unstoppable Global Warming: Every 1,500 Years. 
- Dr. Harold Doiron is the Chairman of The Right Climate Stuff research team as well as a NASA Apollo Space Mission veteran.
- Tom Wysmuller is a veteran of the Apollo Space Mission and a leading expert on Sea Level rise.
All three became real characters in my story.
Now here's where it gets interesting: I researched the legal ramifications of using real-life characters in this manner. I discovered that if I don't impugn or misquote them in any way, I was within my legal rights as an author—but it didn't feel right—and it certainly was not the courteous thing to do without first notifying them. So, after the manuscript was completed, I set out to make contact and to explain what I had done.
A friend who had worked with Dennis agreed to pass along the manuscript to him, so that was easy. What was unexpected was to receive a phone call at our home in Italy a few weeks later.
Dennis' first statement from miles away in Virginia, was that I had accomplished what no other human being in the western world has been able to express. Then, he proceeded to read aloud an outstanding review he had written. At that point the twists and turns became cartwheels.
Admittedly, at that juncture, I was feeling cocky. So, I stepped up the ante and took an astronomical leap. I decided to contact my NASA guys. To my delight, Harold (Hal) and Tom responded and asked to review the manuscript to check for scientific accuracy.
I wasn't the least bit deterred by the challenge because it was imperative that the science be factual and that the storyline be plausible. In the end, it turned out to be a remarkable collaboration. From the meticulous details, explanations, suggestions, and corrections, it was clear they had devoted the time and interest to read the manuscript thoroughly. Their feedback has also greatly added to my understanding of the climate change debate we face today.
Dedicated to getting it right, and willing to accept the support of these scientific minds, has paid off from a growing list of endorsements. Hal wrote an amazing review that became the Foreword for the book, and a review was crafted by both Jay Lehr, the Science Director at The Heartland Institute and Laurence Gould, Physics Professor at the University of Hartford, to name a few.
I'm very proud of the work and the results that spawned the writing of Climatized because climate change has become a topic up there with religion and politics that creates not only heated conversations, but much confusion. I believe Climatized will put to rest much of the confusion and shine a light on the real science, returning the discussion to the dining room table.
My novels continue to present interesting challenges as they deftly weave themselves into my life. I've recently signed on as a co-host for a national radio talk show called "Life, Liberty, and the Pursuit of Pleasure" that can be found on the America Outloud platform.
Soon I will begin the next novel in "The Max Ford Thriller" series. Remember earlier when I mentioned David Dunham, my publisher? Well, here's a little secret we haven't shared with anyone —we are in the midst of negotiating a film deal for, "Climatized: the Movie." How's that for a turn of events?
Confucius may be correct when he said, "Life is really simple, but we insist on making it complicated." Although, I prefer his other advice: "Choose a job you love, and you will never have to work a day in your life."
Tweet This!
Eye-opening political #thriller #Climatized will not let your mind go to sleep. https://tinyurl.com/kv962o3 @sallyzsaying @BuddenReviews (Tweet this)
Climate change: is it what you think it is, or is something lurking behind the scenes? https://tinyurl.com/kv962o3 @sallyzsaying @BuddenReviews (Tweet this)
Climatized - a political #conspiracy about #globalwarming, #climatechange. Must read! https://tinyurl.com/kv962o3 @sallyzsaying @BuddenReviews (Tweet this)
Fact, #fiction, or a combination of both? #Climatized @Sallyzsaying - creating lots of buzz. https://tinyurl.com/kv962o3 @BuddenReviews (Tweet this)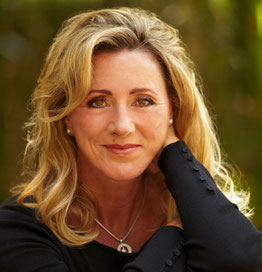 Sally Fernandez, a novelist of provocative political thrillers steeped in facts, wasn't always twisting facts with fiction. Heavily endowed with skills acquired in banking, she embarked on her writing career.
Fernandez' focus on computer technology, business consulting, and project management, enhanced by business and technical writing, proved to be a boon. Her books of fiction also reflect the knowledge garnered from her business experiences, while living in New York City, San Francisco, and Hong Kong.
Fernandez' foray into writing fiction officially began in 2007 when the presidential election cycle was in full swing. The overwhelming political spin by the media compelled her to question the frightening possibilities the political scene could generate. As a confirmed political junkie, she took to the keyboard armed with unwinding events and discovered a new and exciting career.
Climatized is her fifth novel and the first in the "Max Ford Thriller" series, featuring Maxine Ford as the female protagonist. Her prior series, "The Simon Hall Political Thriller," is comprised of Brotherhood Beyond the Yard, Noble's Quest, The Ultimate Revenge and Redemption. Each book provides an exhilarating platform for the next, with a gripping narrative that challenges the reader to put the book down.
The ever-elusive Simon's daring escapes allow him to add unheard of dimensions to the classic cat and mouse game. Fernandez' development of the other characters has created a lasting bond between them and the reader, especially now that Max has taken center stage.
Sally Fernandez combines her writing career with her role as co-host on America Out Loud Talk Radio. The new show titled Life, Liberty & The Pursuit of Pleasure gives Fernandez plenty of opportunity to let her words jump off the pages and engage others on the topics of the day.
As a world traveler, Fernandez has visited every continent and over fifty countries. Her adventure travels with her husband include a scientific expedition in Antarctica, four African safaris, archaeological digs in Majorca and Peru, along with high-altitude treks in Bhutan, Tibet, and Mongolia.
Sally Fernandez and her husband, also the editor-in-residence, split their time between homes in the United States and Florence, Italy.
Where Can I Find Sally Fernandez Online?
Out of Curiosity...
Would you be interested in learning the truth about global warming, and the scary repercussions we face by trying to prevent it? Would you be among the ones wanting the first opportunity to see Climatized as a movie?