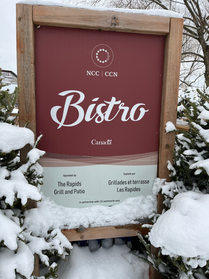 In August, I discovered an outdoor gem within the city of Ottawa, Ontario, Canada. I thoroughly enjoyed my time at Remic Rapids Park - from its rock sculptures and surrounding scenery - to The Bistro, which offered a variety of foods with plenty of seating space.
I went back there a few times during the summer and decided to pop back and visit the area during winter. What a delightful treat it turned out to be! I enjoyed seeing the large trees adorned in snow and the water with ice having formed only along the shore.
It is a wonderful place for a person, couple or family to spend part of the day - and pets can come along. There are washroom facilities onsite year-round. What's not to love?
I invite you to check out my travelogue about Remic Rapids Park and the NCC Bistro by clicking here.