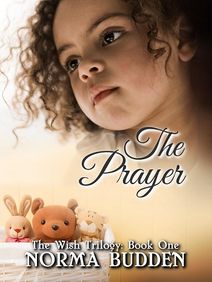 I enjoy writing my stories, getting to know my characters as the pages unfold. Their challenges become my own; their triumphs - as rewarding for me as for them.
When the stories are published I enjoy sharing the wonderful news with you. When I read a review posted online, or someone shares thoughts through a private message, it excites me as few things do in this writing world I've come to call home.
However, on occasion, it's refreshing to let you hear another person's voice sharing thoughts about one of my stories. At this time, I'm going to allow Debbie Grainger, an Amazon reviewer of The Prayer (The Wish Trilogy: Book One) to tell you what she felt about the story in her own words - thoughts she decided to share beyond the scope of her review. 
"The Prayer was mesmerizing – one of the few books I've read that, each time I thought I knew what was going to happen, something else happened instead. It would totally throw me off balance, but in a good way.
"The interaction between the characters was amazing. It felt like I was watching a movie. The writing flowed so smoothly, I could picture everything; it felt like I was witnessing what was happening in reality.
"The characters – Sierra, Tamara, Katarina, Doc Brady, Paige, Janetta, Hunter – each had a purpose that contributed to the fullness of the story. They weren't just extra characters tossed into the story; to remove even one, the story wouldn't have been the same.
"After I finished reading, The Prayer, I couldn't stop thinking about it. There were questions which plagued my mind: could I truly fall in love with a person who can't see me, can't feel me, possibly can't even hear my voice? Could I fall in love with two people at the same time? I know a child can capture my heart so that's not even a question, but could a child's conviction change my heart and mind?
"There are so many elements to, The Prayer; it has to be one of the best books I've ever read and I am dying to read, The Journey, the second book of the trilogy."
I'd like to thank Debbie for taking some time to share her thoughts with us about The Prayer. I can't speak for you but I find myself drawn into the same questions plaguing her mind. Look at the first question: could you imagine yourself in such a situation? Feel free to share your thoughts below.