Cameron Valdez is exceptional in a few ways - not the least of which involves the hand-crafted, torch-burnt wooden signs/name plates he and his son, Connor Valdez, creates at C & C Woodworks.
I had known about Hawaiian-born, Alaska-living Cameron long before we started communicating. A  heartfelt post he had shared on his sister's timeline was the reason I decided to reach out to him. His way of expressing himself using the written word struck something deep inside. I ended up visiting his Facebook profile and reading more of what he had written. I knew this family man who had such a strong sense of values would be a man I would be proud to call a friend.
As time slid along, I began seeing posts with his wooden signs/name plates. People were excited about them - including me - and I would read occasional updates about a few more of them being mailed out to customers.
A Name Plate to Call My Own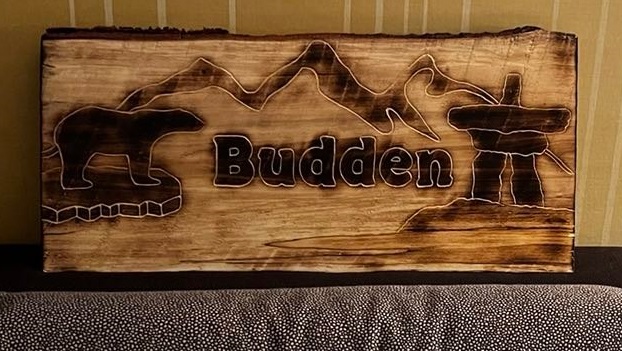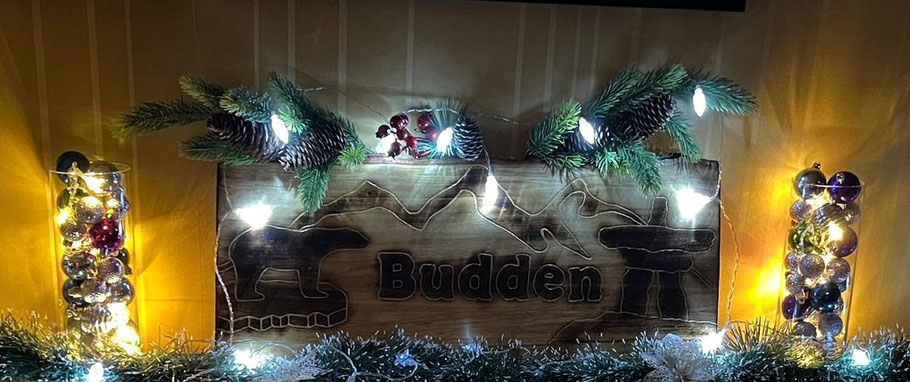 The more I saw orders going out for other people, the more I wanted one of these wooden signs/name plates for myself. I thought that, if Cameron and Connor could create them based on aspects of Hawaiian life, they could create one for me based on aspects of life in Nunavut, Canada.
The last place I lived was in Kimmirut, Nunavut on Baffin Island. The town is surrounded by mountains and the polar bears are prevalent in that part of the world, as is the ice and the Inukshuk - the figure you see standing to the right. I wanted one of these to call my own as an in-my-face memory of the time I had spent there.
As you can see above, I did go on to order one of the signs. You can also see it is not set outside of any door but is an accent piece which I decorated for Christmas; it became - and remains - the focal point of the room.
That being said, because I am currently in Ottawa, Canada and the sign was shipped to me from Alaska, USA - which involved customs fees along with mailing fees - the price I ended up paying in Canadian currency was twice the amount a resident in the USA would pay for the same creation.
Did I care? Not really! The way I saw things: I have a piece of art custom-made by an American friend and his son which brightens my surroundings, a piece of art I am proud to, finally, own - which shall follow me wherever I go in this life. There are few things I possess which mean as much to me.
Why? Apart from the artistic appeal, a memory of another place and time, and being made by a treasured friend and his son, when I look at this wooden sign/name plate, I see my surname which brings "strength" to mind. I see three symbols which resonate within me: the mountains, the polar bear and the Inukshuk. It is made from wood; anyone who has had much interaction with me knows how much I love trees. I feel as if Cameron and his son have captured the essence of who I am and translated it into this wonderful design.
My Interview with Cameron Valdez
I wanted to get to know more about Cameron and his woodworking. I had some idea of what was involved but, not being involved with such creations, I wanted to hear about it directly from him. Read below to learn what he shared with me.
Norma: What does being an artist/creator mean to you? 
Cameron: I have always loved creating things with my hands. Collaborating with the customers to create something custom-made is one of the most enjoyable aspects of my sign building. 
Norma: When did you first realize that you wanted to work with your hands in such a way? How old/young were you at the time? 
Cameron:  Probably about the age of 6. I guess I've always loved working with my hands and creating things from scratch.  
Norma: From its inception, how long did it take you to create your first piece of art from woodwork? What was your first creation and was the experience mostly rewarding or filled with varying levels of frustration? 
Cameron: I remember my mom buying me a carving set when I was about 6 or 7, and I carved a gift for my grandmother. It was very rewarding creating something for someone I loved. 
Norma: Are you currently working on another piece? If so, we'd love to hear more about it. 
Cameron: My current project is an e komo mai sign for one of my auntys in Kentucky.  E komo mai means, "welcome" in Hawaiian.
Norma: Who has been a major source of inspiration for you as a woodworking artist?
Cameron: I'm not sure where my love of woodworking came from. No one in my family does what I do. I just love creating things. Seeing the look on peoples' faces when it's done is priceless. 
Norma: What is your ultimate dream, in terms of creating your woodwork; is it something you hope to do for a living? 
Cameron: Yes, I've always had the desire to do my own thing and run my own business.
Norma: Tell us a little about you, the man. What is one of your favourite quotes? It  can be your own, from a book or something you heard throughout your life.  If you did not write it, please cite the source, if possible. 
Cameron: One saying that always stayed with me was from my Grams, who passed away a little over a year ago. She said, "If you work hard, love what you do, and put God first, you will always succeed."
Norma: Tell us a little about your life. What does an average woodworking day look like? 
Cameron:  On an average day, I get up early, call or text the customer, and come up with a design or concept. Then I'll make a rendition and send it to the customer. Once it's approved, I'll then sketch the rendition on the piece of wood and start carving it out. Once that's done, I'll sand it smoothly. Then, I'll start painting or torching it depending on what the customer wants. Once that's done I will then coat the piece with a durable polyurethane finish. 
Norma: What are three of your favourite hobbies? 
Cameron: I like hiking and fishing, and spending time with my family and grandkids.
Norma's closing thoughts:
It has been a pleasure to catch up with Cameron and learn a little more about the man behind the scenes. I continue to grow more fascinated with each new piece I see. Take a look below to see how the pieces begin and for a sample of signs created at C & C Woodworks.
The Beginning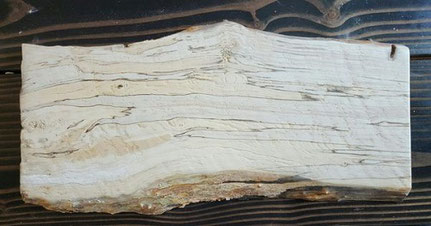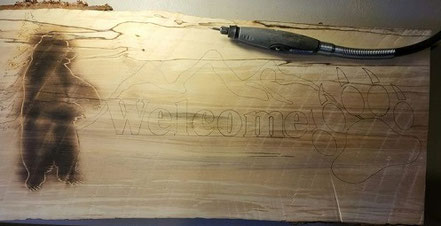 A Few Wooden Creations
If you love these wooden signs/name plates as much as I do, feel free to get in touch with Cameron Valdez through his Facebook page, C & C Woodworks, by clicking here. I am sure he would be delighted to hear from you. 
If you don't have Facebook but would like to get in touch with him, reach out to me through my contact form and I will pass the information along to him. Please DO NOT post personal details in the comments section.
Did you enjoy this post? We would love to hear your thoughts.