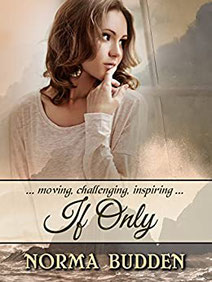 If Only is a powerful story which is sure to affect your emotions on many levels as you read about, and get to know, the various characters. As teens, Demi and David fell in love; unbeknownst to David, Demi conceived and later gave their baby girl, Alexa, up for adoption.
David couldn't understand why Demi left but respected her wishes; Demi couldn't understand why David didn't come pounding on her door. Eventually, both moved on with their lives - going on to get married and having a couple of children each.
Advance the calendar 16 years. Demi feels concerned about her firstborn daughter. She can't say she feels her daughter is in danger but she feels unsettled in her spirit. Previously, when she thought about Alexa, she was able to move on with her day and set thoughts of her firstborn child aside. Not now. A couple of detectives couldn't find her. In desperation, she called the only detective she knew who would never give up until he found her - Alexa's father.
As you might imagine, there is bound to be tension when the truth is revealed, especially among Demi and her husband, and David and his wife. As the story unfolds, you may experience feelings of shock and even be tempted to jump to the end to see how the book ends. Don't do such a disservice to yourself because the ending will leave you with questions if you don't take the entire journey.
A few thoughts from readers:
"I am blown away...tempted to jump to the end...but I can't! I want to read every word. This is absolutely one of your very best!" ~ author Michael Phelps
" I am a David. This book brought memories back to me long forgotten." ~ Ronovan Writes
"This is a book I'd give six stars to if I could. I envy you. You still get to read the book!" ~ author Dianne Harman
"I love when art, in this case writing, imitates life. Norma Budden has created a story with characters that are very believable." ~ Sandra K. Stiles
"This was an uplifting story of change and growth between two adults who felt the need to atone for decisions made as young adults. Our past always follows us, and Norma Budden leads her readers on a journey of love and acceptance one will not soon forget." ~ Colleen Chesebro
"I am a #1 Fan of Norma Budden's writing. I will read and love anything she writes because of the emotion, reality and just pure feelings that she puts into her characters to make us love them." ~ Dee Fleischman
"Norma Budden does not disappoint. It was a page turner that I simply could not put down." ~ Caity
Learn more about, If Only, by clicking here. It is available in Kindle and paperback through Amazon.