What elements make for an intriguing story? That answer differs for every reader but, for me, I love a story with a lot of mystery and intrigue that keeps me guessing about 'who dun it' until the very end. Norma Budden's novel, An Affair to Remember, fit the bill for me.
"Affair" opens with information about a man who has lived in the shadows and his mission to protect Monica Townsend, the book's main character. We learn that this man of mystery would die before breaking this pact that he had made many years ago.
This information, revealed in the first paragraph, had me hooked. Who was this man? Why did he live in the shadows? How does he know Monica and why does he feel compelled to protect her? What pact did he make years ago; why did he make it and why is he willing to die for it? All of these questions made it very hard to put this book down. I think this was an excellent example of an opening paragraph for a novel since it gripped my attention and made me want to keep reading.
As I continued reading, I couldn't help but wonder about the identity of the mystery man. Norma offered up plenty of clues with various characters to keep me guessing through the first half of the novel. So who was the mystery man? You'll have to read the book to find out! But here are some of my guesses before I learned his identity.
Monica's Father
When you first read about Monica's father, you learn that he's dead. Or is he? I surmised that maybe he faked his death. Or maybe he had done something so sinister that Monica's mother thought it better that she grew up believing her father was dead but he really wasn't. In chapter 3, Monica's mother recalls her husband's funeral, but I still couldn't help but wonder if it was all a ruse especially after learning about his bad guy skills.
A Friend of Monica's Father
If Monica's father was dead, maybe Mystery Man was a friend of her father who had vowed to watch over a young Monica. If this was the case, why would he vow to do this in silence or do this in the first place? What was Monica's father tangled up in? Is Mystery Man tangled up in the same affair and is this the reason he has to keep his distance from Monica in order to ensure her safety?
A Secret Admirer
Could the mystery man be Monica's secret admirer, someone who was just as shy as Monica, and who - like her - had not gotten close to anyone in his life? Could this admirer have been someone that lived near Monica and had kept a watchful eye over her?
Chase
Early on in "Affair" you meet Chase, the handsomely rugged cop that takes on Monica's case. In chapters 1 and 2, I had a fleeting thought that Chase could possibly be Mystery Man, but I struck that theory once Chase arrived at the warehouse scene. At this point, it seemed Mystery Man and Chase were different people - unless Chase had a split personality!
If you enjoy reading books packed with mystery, suspense and a little romance, then I highly recommend you pick up An Affair to Remember and be prepared to not be able to easily put the book down! If that's not enough to hook you, you won't believe the ending! I didn't. In fact, I had to read it twice because I couldn't believe it!
You can read the review I posted on Amazon by clicking here. 
I hope you enjoy this story and discovering the identity of the mystery man as much as I did. I look forward to reading the sequel in this series!
Kelley Grealis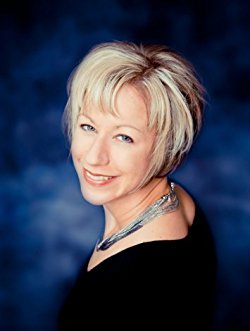 Kelley Grealis is the author of The Descendant Vampire Series which includes The Descendant, The Search and The Truth. You can buy the Kindle boxed set at Amazon.
Kelley lives in a suburb of Cleveland, Ohio with her husband and two cats.
When not working her day job, Kelly enjoys motorcycle and ATV riding, gardening, reading, and dreaming up the next story she plans to write. She is a graduate of Baldwin-Wallace College and Cleveland State University.
Connect with Kelley at her website.
To read the review I wrote for The Descendant, please click here.